cardiostrong Baltic Rowing Machine
Item number
CST-BALTIC-2BT
Sport-Tiedje Expert Review
Express delivery

from 30,00 €

Delivery at room of choice (2-man handling)

+79,90 €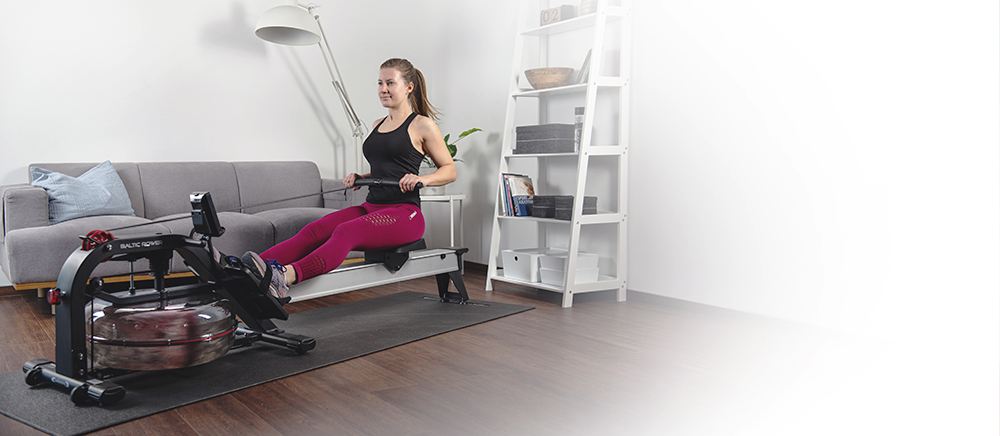 cardiostrong Baltic Rowing Machine
A stable rowing machine with natural water resistance
Comprehensive fitness workout

Effective total body workout equipment for strength and stamina

Bluetooth console

Connection with apps like iConsole+ or Kinomap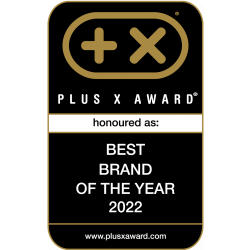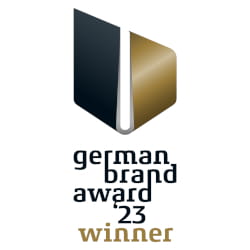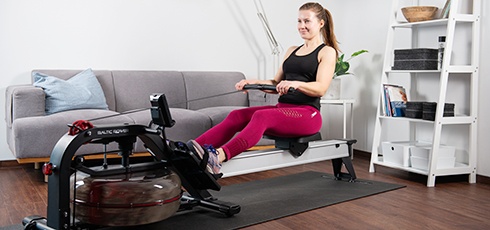 Rowing like on water
Thanks to the natural water resistance, you can enjoy a rowing experience as if you were rowing in the great outdoors. Each stroke moves a paddle through the water tank. You determine the intensity yourself by the speed of your rowing stroke. This allows you to adjust the resistance yourself at any time during the workout.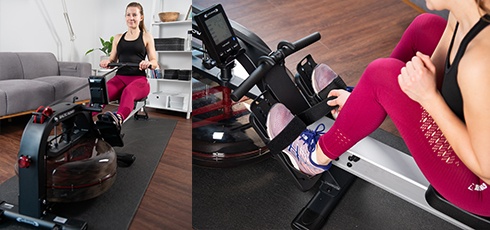 Stability meets design
The Baltic Rower combines high-quality materials with a modern colour concept. The metal frame gives the rower great stability. The red water tank is a visual highlight, creating a beautiful effect and a real eye-catcher in your home.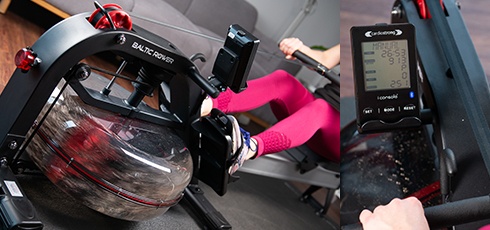 Excellent value for money
Would you like to enjoy a rowing machine with water resistance, but not at the expense of a higher-priced wooden model? The Baltic Rower offers a water rowing machine with the perfect value for money while providing great comfort and sturdy workmanship.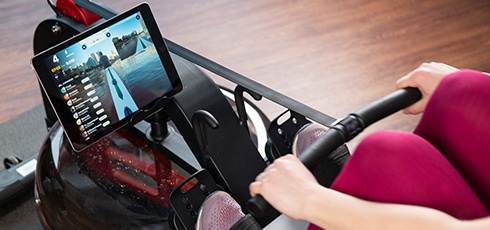 Made for rowing at home
Quick assembly, user-friendly console, fold-away function. The Baltic Rower knows what it takes to work out at home. The Bluetooth console lets you explore the world at any time with apps like iConsole+ or Kinomap. The roller seat glides almost silently along the rail. Thanks to its simple handling, the rowing machine is ready for use in no time and can be stowed away space-efficiently after the workout.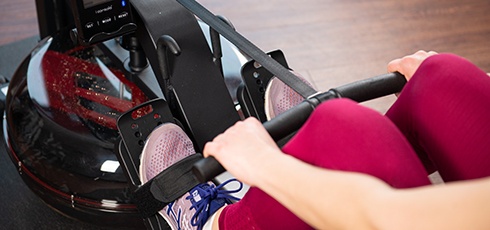 Joint-friendly workout
The three-bladed paddle in the water tank is designed to keep the resistance constant throughout the rowing stroke. This even, smooth resistance ensures a comfortable, fluid stroke movement enabling a particularly joint-friendly workout.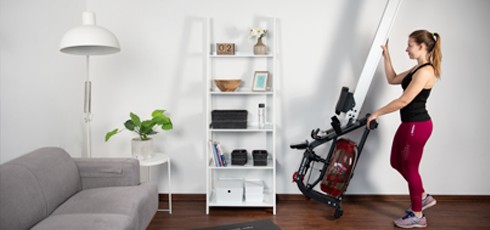 The compact full-body trainer
Many positive training effects from just one piece of fitness equipment. When working out on the Baltic Rower, you use more than 85% of your muscles while improving your endurance at the same time. This full-body workout is highly effective, time-saving and the perfect balance to a day at the office that is lacking in physical activity.
---
Bluetooth capable for connection to both the Kinomap (7-day free trial, then at a special Sport-Tiedje discount) and iConsole+ apps (the latter can be downloaded from your App Store)
Stable water rowing machine for starting the training and for improving your fitness
Smooth rail – you only hear the rushing of water while exercising
After the training it can be space-efficiently folded and thanks to the transport wheels it can be moved
Comfortable pulling without "dead point"
Determine the resistance by the power and the speed of the stroke
Excellent whole body training equipment for losing weight and for improving the general fitness
Very big display with all important training data
Race programme for testing your fitness
Quick and easy assembly
Suitable for people up to at least 2.10m
Strongly anti-slip, slightly bevelled grips; for optimum grip, see recommended accessories for cardiostrong rowing gloves for optimum grip
1 chlorine tablet included, which lasts up to 3 to 4 months
Training computer with several programmes:

Manual Quick Start
Interval settings of 20 or 10 seconds each | 10 to 20 seconds or user-defined (Number of laps, Length of loaded lap, Length of recovery lap)
Goal programming: time, oar strokes, pulse rate, calories, route

Max. user weight: 150 kg
Dimensions set-up - cardiostrong Baltic Rowing Machine: (L) 226 cm x (W) 55 cm x (H) 65 cm
Folded - cardiostrong Baltic Rowing Machine: (L) 65 cm x (W) 55 cm x (H) 226 cm
---
Description: cardiostrong Baltic Rowing Machine
cardiostrong Baltic Rowing Machine – a natural rowing experience and a pleasant stroke action
Imagine you are rowing in the great outdoors, and all you hear is the sound of the water. With the Baltic Rowing Machine from cardiostrong you can bring this experience into your own four walls, regardless of the weather and season. The Baltic Sea, the Mare Balticum with its stunning rowing routes, inspired the makers of the Baltic Rower to give the rower its name and to equip it with a water resistance system to complete the natural feeling of rowing.
With the Baltic Rower, you determine the intensity of your workout yourself by the strength of your pull: the faster and stronger your stroke, the harder your workout will be. This is particularly useful for beginners, as they can adjust their stroke intensity to their fitness level at any time; thus, there is no danger of overstressing. You started at a high intensity, but would like to relax your workout a bit? No problem – just use less force during your stroke, and the intensity will automatically decrease without any adjustments being made on the training console. The water resistance system enables you to flexibly switch between different levels of intensity during a workout and thus complete out a HIIT workout, for example.
During the development of the Baltic Rower, particular attention was paid to the blades in he tank. They are designed so that there is no "dead spot" during the stroke. This ensures a pleasant, joint-friendly movement and a more effective workout, as the resistance can be felt throughout the entire stroke action.
Comprehensive strength-endurance training
Increase your fitness level with the cardiostrong Baltic Rowing Machine! Rowing is an effective full-body workout allowing you to benefit from many positive training effects: you increase your strength, flexibility and performance level while also improving your posture and strengthening your cardiovascular system. The Baltic Rower takes you one step closer to your fitness goal with every stroke. Along the way, you can add new challenges by varying the duration and intensity of your workout. Long, low-intensity cardio sessions are just as possible as short, intense strength training workouts where you give it your all.
Quiet, space-efficient and a trendy design – ideal for rowing training at home
Rowing machines for home use should not only be effective and comfortable but also quiet and easy to use. The design also plays an important role; after all, the rowing machine should look good in your home and suit your interior style. The Baltic Rower has an answer for everything. The seat rolls over the track on ball-bearing rollers, making the rowing machine pleasantly quiet when rolling back and forth. This enables you to listen to your workout playlist or watch the latest episode of your favourite show while exercising.
The Baltic Rower owes its modern design to its red water tank. Thus you do not need to add additional colouring to the water. The metal frame also gives the Baltic Rower a modern look and is extremely stable at the same time. The rails are narrower than many comparable models. This means that there is less space between the footrests, which makes rowing more comfortable. The footrests can be adjusted in size to ensure that your feet are secure, enabling you to perform the rowing movement efficiently.
The Baltic Rower comes pre-assembled and can be set up in just a few steps, so there is nothing standing between you and your first rowing session. In addition, the long rail can be easily lifted up. In combination with the transport wheels, the rower can be stowed away to save space after your workout.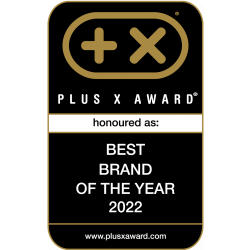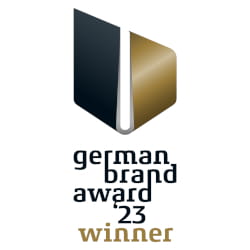 ---
Warranty conditions: cardiostrong Baltic Rowing Machine
For further information on the warranty, please refer to the manufacturer's terms of warranty. The manufacturer's warranty is an extra service and does not affect your statutory rights.
| Manufacturer's warranty | Full warranty |
| --- | --- |
| Home use | 24 months |
---
cardiostrong Baltic Rowing Machine Test & Evaluations
4.94 of 5 Stars
(17 Customer ratings)
Sport-Tiedje Expert Review
---
---
---
cardiostrong Baltic Rowing Machine Service & assembly videos
With our videos, we want to help you use your fitness equipment as quickly and as well as possible. In the assembly video, we guide you step by step through the assembly of your device. It's best to watch the video in its entirety and continue to use the printed instructions during assembly.
---
cardiostrong Baltic Rowing Machine Accessories
---
Bestsellers of the last 30 days from the category Rowing machine
---
Sport-Tiedje puts each fitness equipment through its paces. Then our team of sports scientists, serious athletes, and service technicians of many years of experience evaluate the products of different categories. Compare easily the products using the Sport-Tiedje expert review and find your appropriate equipment.