Everlast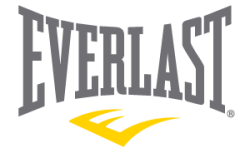 Everlast - Choice of Champions!
Everlast - All categories in an overview (2)
The range of products of Everlast offers a great selection of high-quality fitness equipment and first-class accessory. Here you get to the overview about the whole range of Everlast Boxing wear:

Everlast offers a wide offer of high-quality fitness equipment and accessory for the training at home. Get effectively in shape, lose weight, and keep healthy at home with the Everlast Chin up bar products.
EVERLAST - the most famous boxing trademark in the world - is the market leader in the field of boxing equipment. More than 90 years of experience enables Everlast to develop high-quality products and many innovations in the boxing and fitness market. From the development of the famous boxer shorts, to the current Pilates products, Everlast stands for high-quality, versatile and professional equipment. That is why many succesful boxers, in training and in competition, depend on Everlast, e.g. Joe Frazier, Mike Tyson, Evander Holyfield and George Forman. Everlast - The Choice of Champions!

Boxing is excellent training for mind and body, as a competitive sport as well as a workout. The boxing workout is a special form of fitness training. Sports medicine discovered that boxing is one of the most effective total body workouts found in the field of sports.

Pilates is a current trend in the field of fitness. Preferred by celebrities, managers and professional athletes, Pilates excites more and more people in Germany. Through a special combination of body control, breathing techniques and relaxation, Pilates trains muscles without gaining weight and can be performed regardless of age and physical condition.